Online vs offline marketing
5th October 2017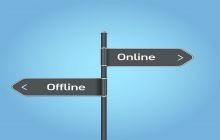 Is online marketing the best way to sell a property?
In today's competitive housing market, estate agents are using more and more innovative ways of attracting viewings and finalising sales. Over the past few years, the role of online marketing has become an integral element of any effective marketing campaign. With a number of estate agencies being established which focus solely on web, social media and online advertising, is it true that other methods are becoming less effective, when it comes to driving sales?
It would seem not. Despite the rise of online firms, it seems that when it comes to purchasing property, people still welcome more traditional techniques to support them to make potentially the largest purchase of their lives.
With that in mind it makes sense to maximise the sale potential of selling property by combining the best of both worlds by using the services of a traditional estate agent with a high street and proactive online presence.
When it comes to sales success, the most effective approach is a combination of both traditional, and non-traditional mediums.
From an article by Nethouseprices 5th October